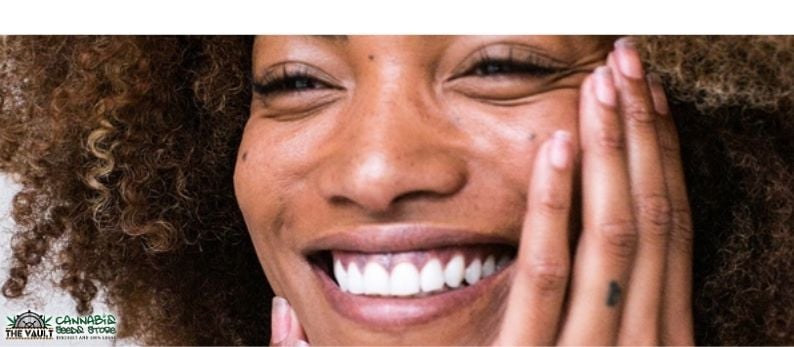 CBD is considered a bit of a wonder chemical currently and is being used in a wide variety of ways. Primarily scientists are focusing on its medicinal benefits when it comes to severe diseases and disorders. However, we are also discovering an entire other use for it. Skincare can be problematic for a lot of us. Many of the harsh chemicals used in regular shop-bought skincare can irritate and inflame the skin while triggering lasting issues. It is also true that few skincare companies are ecofriendly and may claim to use natural ingredients but are full of drying perfumes and pore-blocking oils. Recently several companies have started working on CBD skincare and so far the results are impressive.
What does CBD do for skin?
CBD contains a number of ingredients that are vital for skin health such as essential fatty acids Omega – 3 and Omega – 6. By having these as part of a daily skin routine we build a healthy base that makes taking care of skin significantly easier.
CBD is also a pain-relieving anti-inflammatory which makes it ideal for inflamed or irritated skin. This can be anything from acne to severe eczema or psoriasis.
For those who have already suffered from these skin issues and have been left with scarring CBD is an excellent option. CBD products can repair and help heal the skin to lessen the appearance of acne or other forms of scarring.
For basic skin issues, CBD can regulate oil production, hydrate skin and reduces redness and inflammation in common breakouts.
How is CBD skincare used?
Like any skincare, this very much depends on the instructions that come with the product. For those who have a regular skin routine, it should be relatively easy to simply replace products with CBD based alternatives. As with any new skin product, it is a good idea to start slowly and increase usage if your skin responds well.
Best CBD Skincare Brands and Products
There are a number of brands that are fully dedicated to CBD skincare, and availability may vary depending on where you live. Here are just a few of the highest ranked CBD skincare brands and products.
Vertly
This company is California based and prides themselves on their "garden to bottle" skincare. They use slow extraction methods and all of their products are rigorously tested. Incredibly their products are made fresh daily with a combination of herbs, flowers and CBD. A product that comes particularly well recommended is their lip balm which has been described as a lifesaver and the "holy grail of lip balms". The packaging is gorgeous, the company is small batch and eco friendly, and the products smell incredible. I would recommend that Vertly is a great place to start if you are new to CBD skincare.
Joy Organics
Joy Organics was co-founded by Joy Smith who used CBD herself to ease pain and sleep issues. Their products come extremely highly recommended especially their CBD salves and face masks. The masks, in particular, have been heavily praised for their ability to quickly relieve puffiness, redness and their impressive hydration. It's a family founded company based in Austin Texas and has been growing steadily with the popularity of their products. Once again this company boasts natural ingredients to ensure continued and improved skin health. On their website, you can go to lab results and see the third-party lab results to support their quality assurance. It is important to ensure that any CBD products have been thoroughly tried and tested.
Lily CBD
One of the must-try products by Lily CBD is their Aloe infused lotion, ideal for those of us who are essentially translucent. Once again this company was started by someone who used CBD, this time to help their mother recover from a car accident. Lily CBD also supports a number of charities and not for profit organisations so ideal for anyone who likes to do some good while they shop. They have an entire section on their website dedicated to educating customers so that they can choose the perfect products for their needs. Apparently, the aloe lotion can smell a little pungent when in the jar, but on skin, it becomes mild and herbal. Their products also do not contain any essential oils, fillers or preservatives that could be harmful to skin.
KHUS + KHUS
This is a particularly trendy company that specialises in all things luxurious. They have CBD based treatments for the face, body, lips, hair, and anything you can think of. They believe that supporting the body supports the mind. Their products are 100% botanicals with no extra harmful ingredients. Their recommended products include their BLEU Body Wax and their The FIX Face Potion. Their BLEU Body Wax contains ingredients that reduce inflammation, work as antiseptics, and are highly moisturising. Since it comes as a solid a little goes a long way and a relatively small tub should last for a while. The Fix Skin Potion is also anti-inflammatory and extremely soothing whilst also covering skin with antioxidants. The reviews for this product are extremely positive and many say they will never be without it again. This brand is certainly a little pricier but from the reviews, I would say it sounds worth it.
Josie Maran Cosmetics – Skin Dope
This brand is an offshoot of a larger cosmetics company that immediately became hugely popular. Skin Dope has a wide variety of products that can easily slide into any skin routine and replace normal products. Her current best seller is the daily hand and body wash that comes in four different options; unscented, California citrus, coastal breeze and sunny lavender. It is a calming and soothing wash that is sulphate free and perfect for sensitive skin. It also contains argan oil which is fantastic for locking in the skins essential fatty acids. All of those who have tried the wash say that it is moisturising, refreshing and extremely luxurious. Her CBD oil is also extremely popular as it can be used for many different things. It is essentially a wellness oil that can be used on the face and body to improve overall skin health and reduce stress.
Remember: It is illegal to germinate cannabis seeds in many countries including the UK. It is our duty to inform you of this fact and to urge you to obey all of your local laws to the letter. The Vault only ever sells or sends out seeds for souvenir, collection or novelty purposes.
Make sure you never miss another Vault promo and sign up for our newsletter at http://goo.gl/Bt2Ba2